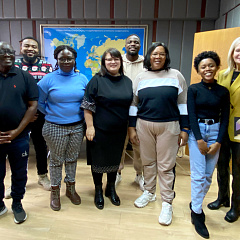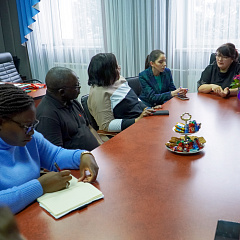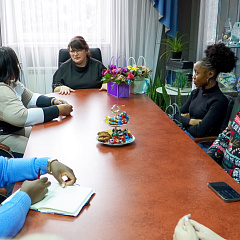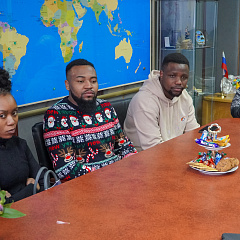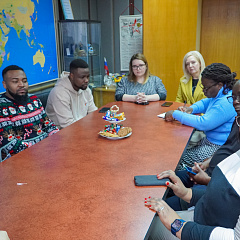 Today representatives of the Embassy and the Bursaries Committee of the Ministry of Higher Education of Zambia has visited our university. The guests got familiar with Zambian students' living conditions and facilities for learning at Kuban State Agrarian University. They personally met with students in the conference room of the Faculty of Mechanization dormitory.
Vice-Rector for International and Youth Policy of Kuban State Agrarian University Tatyana Polutina spoke about the process of teaching foreign students at our university, about their achievements in studies, in the cultural, scientific and sporting life of the university, about their active attitude to life. Today, 15 students from this country study at university, at the agronomy and ecology faculty and the preparatory department. They entered the university in the framework of the scholarships provided by the Russian Government.
First Secretary, Education Attaché of the Embassy of the Republic of Zambia in the Russian Federation Ms. Mavis Mulenga was satisfied with the information received, and she expressed her gratitude to the university administration for quality educational services and favorable living conditions on campus as well as meetings with Zambian students. She also stressed that she regularly communicates with students and receives exclusively positive feedback about KubSAU, lecturers and fellow students.