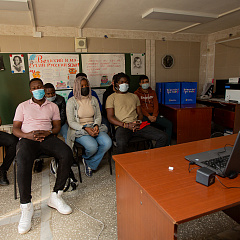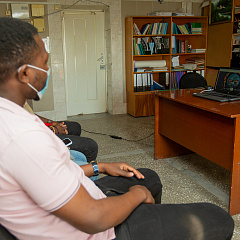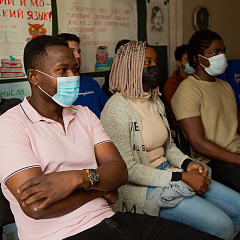 On November 17, twelve foreign students from our university took part in the International Online Olympiad "The Youth Sing a Song of Friendship", which was in the Russian language. The Olympiad was dedicated to the International Students' Day, and it was among Krasnodar universities students.

The Olympiad was held in order to strengthen the position of the Russian language and culture, popularize and increase interest in its study in the context of a new geopolitical situation; support talented young people, identify competent foreign citizens, realize their creative potential, develop tolerance and establish new international contacts.

The Krasnodar Municipal Administration was the initiator of the Olympiad, and Kuban State University was its organizer. Narine Shushanyan, senior lecturer at the Department of Russian Language and Speech Communication, and Olga Rybalchenko, Associate Professor at the same department, were moderators from KubSAU.

At the beginning of the event, the students were welcomed by Temyr Khagurov, First Vice-Rector of KubSU, Georgiy Pronkin, Deputy Director of the Department of Internal Policy of Krasnodar, Galina Govorova, Director of the Department of International Relations, Evgenia Zhirkova, Dean of the Faculty of Philology at KubSU, and Brigitte Dressler, lecturer in the Russian language at the University of Applied Sciences for Engineering and Economics, Germany.

As part of the Olympiad, our students and students from other Krasnodar universities (KubSMU, KSUFCST, KubSU, KubSTU, KSIC) participated in a country specific quiz and gave their presentations. During the performance, they talked about their life and studies in Russia. Our participants of the Olympiad were remembered for their creativity and sincerity. The guys spoke with love about their home university. Also, they sang several songs in Russian. The International Online Olympiad ended with the announcement of awards. Certificates and valuable prizes were provided by the Krasnodar Municipal Administration.