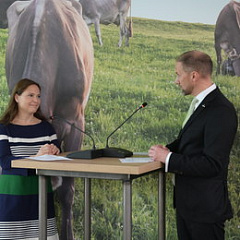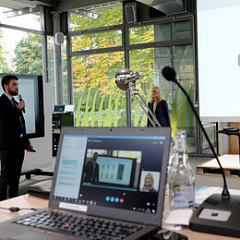 The CLAAS Foundation awarded its scholarships, bonus prizes and international student prizes to 15 up-and-coming talents in agricultural engineering in October 2021. Instead of holding an event on site in Harsewinkel, the awards were once again presented online – however, this time the four Helmut Claas scholarship holders had the opportunity to present their projects live from the Greenhouse. In total, the prize-winners from Germany, Hungary, the United Kingdom, the Netherlands, Russia, Romania, Slovakia and Poland received more than €30,000 in prize money from the Foundation. The scholarships and other prizes were presented by Cathrina Claas-Mühlhäuser. She has been Chair of the Board of Trustees since last year thereby continuing the family tradition.
Sylvia Looks, CLAAS Foundation Executive Board, was nonetheless visibly pleased that the prize-winners were once again able to attend the award ceremony in person: "These students really have done such great work within their academic fields – work with real added value for agriculture and agricultural technology. It is so lovely to meet them and once again present their prizes to them face to face."
The scholarships which formed the main prizes were awarded to the following winners:
1st prize: Julius Willmaring from Osnabrück University took first place with his work on topology optimization and economic and functional potential analysis for the use of 3D printing in the production of agricultural machinery.
2nd prize: Fynn Lammers won second prize. His thesis examined new methods of chemical crop protection by means of injection techniques. He too is a graduate of Osnabrück University.
3rd prize: Marcell Szalai, a student of Budapest University of Technology and Economics (Hungary), succeeded in securing third place. He carried out a scientific examination of the design of power harrows.
4th prize: Markus Stauder from the University of Hohenheim took fourth place with his paper on the challenges presented by mixed cultivation, with particular consideration given to different sowing methods.
International Student Prize: Evgenii Ugriumov, a student of Kuban State Agrarian University, wrote his thesis on mechanical harvesting of sunflower crop. His research earned him an international award.